Man Rei, Somewhere Between Tapes, Time Is Away
18/06/23, 4-9pm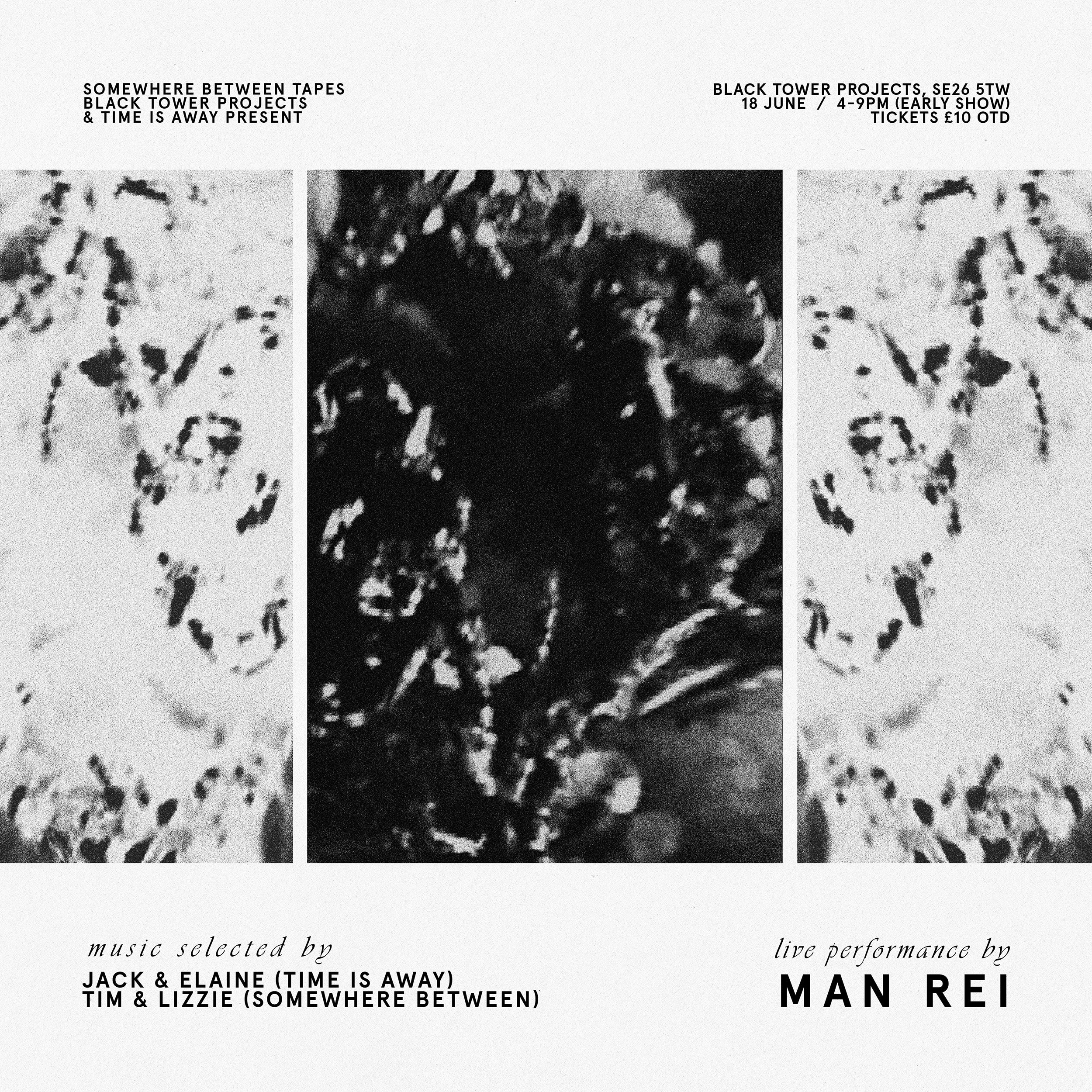 Live performance by Man Rei
DJ sets from Somewhere Between Tapes & Time Is Away
Early show. Food will be served.
MAN REI
Man Rei is a project of cinematic songs where the film might just as well be a soundtracked dream. The fragmented lyrics are accompanied by mangled voices, smeared samples and hazy guitar loops, dissolving in and out of foggy walls of sound. Man Rei's music is predominantly released on cassette tapes, from the weirdo debut 'An Awkward Guest' (Oma333, 2018) to the moody guitar music of 'Stranger's Hometown' (Self-released, 2019) and collection of witchy lullabies on 'Cusp' (Crash Symbols, 2020). 
The event at Black Tower coincides with the release of their forthcoming album 'Health', for Somewhere Between Tapes, which ruminates on the disarray of life and its messiness; an assemblage of heartbreaking, stripped-back songs, channelling the reverb-drenched murmurs of 90s shoegaze. 

SOMEWHERE BETWEEN TAPES

Somewhere Between Tapes is a Glasgow-based record label, formed in 2022, with a focus on emotive sound work and queer perspectives on experimental music, from ethereal ambient to psychedelic-infused electronics.

The label is run by Tim and Lizzie. As DJs, their focus is primarily on radio - they've previously contributed to NTS, Mutant Radio, Refuge Worldwide, LYL, NARR and Clyde Built.  Their radio shows are characterized by an intimate and immersive sound, designed for deep listening, exploring narrative through layered field sounds and collaged fragments. In a live context, their DJ sets delve into low-tempo psychedelic rhythms and playful deviations in leftfield ambient.

TIME IS AWAY
Time is Away are London-based duo Jack Rollo and Elaine Tierney. AS residents on NTS Radio, they have used spoken word, field recordings and music as part of their ongoing reflection on the relationship between time, place, power, identity and history-making. Their approach is open-ended, associative, polyphonic and, in places, deliberately opaque, producing a distinctive sonic atmosphere in which to ruminate.

Share